Online Live Captioning
During this time, most events are being held virtually using a platform such as Zoom. Because of this move to online virtual events, the need for accessible content is increased. We offer a base level of accessibility that is recommended in most cases for  live Zoom meetings, unless there is a specific request for an accommodation for a person who is Deaf or hard of hearing, through a service called Otter.ai. Please review the decision chart below to see which captioning option is appropriate for your live virtual event.
We also have captioning guidelines for live, in-person events.
Virtual Captioning Decision Guide
We have developed a decision flowchart to help guide you in deciding which accessible communication option is the best for your virtual live event. The details, including pricing, for each option are available beneath the decision chart.
For any option except Google Meet, there is a required meeting between UM Accessibility Specialists and the event organizer(s). Please reach out to us at accessibility@olemiss.edu to schedule a time to meet.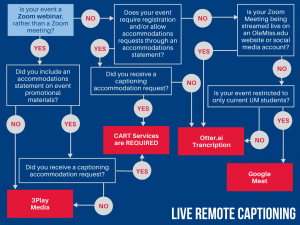 Services Overview
Live Transcription with Otter.ai
$75 per user annually
Captions do not appear on the screen
Transcript is available in a separate browser window that can be resized to fit beside a Zoom window.
Transcript can be saved and shared with participants.
Transcript can be uploaded and edited for post-production captioning if recorded video will be shared online.
User must be the Zoom meeting/event host
Integrates easily with Zoom after initial setup process
Please complete this Live Transcription Request Form to get started, and an Accessibility Specialist will be in touch with you soon.
3Play Media Auto-Generated Captions
$0.60 per minute ($36 per hour)
Captions are available in the Zoom meeting or webinar and can be turned on by attendees
Captions are AI-generated so they are less accurate than human captioning (which is required when there is a disability-related captioning request)
Additional cost for post-production captioning if video will be shared online.
Requires an initial setup meeting with UM Accessibility
Requires communication between meeting/webinar host and UM Accessibility each time the captioning service is utilized.
CART (Human Captioner)
$95-125 per hour
REQUIRED option when there is an accommodations request for captioning.
Required for large, university-sponsored events that are streamed online or via social media.
Requires setup and execution with UM Accessibility Solutions.
Google Meet
Free
Offered as part of UM's Google Suite.
Auto-captioning is built into the system.
Requires event organizer to have an @go.olemiss.edu account.
No setup with UM Accessibility required, but UM Accessibility is available to answer questions about the service.
Requires all attendees to have an @go.olemiss.edu account, which typically applies to all UM students but could extend to faculty and staff.