Digital Accessibility
The University of Mississippi is committed to digital accessibility by working to ensure that all websites, applications, and technology used to deliver academic programs and services are available for all users, including those with hearing, sight, cognitive, or movement disabilities. In compliance with the Americans with Disabilities Act and the Rehabilitation Act of 1973, The University adheres to the Web Content Accessibility Guidelines 2.0 (WCAG 2.0) and recognizes that accessibility is the responsibility of everyone in our institution, especially those creating digital content.
Global Accessibility Awareness Day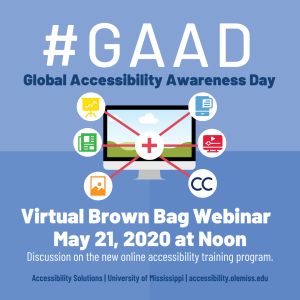 On May 21st UM Accessibility Specialists Jennifer Bland and Lindsey Sneed hosted a webinar in celebration of Global Accessibility Awareness Day.
The webinar, which was recorded, and is available on our Training & Events page, included an overview of accessibility and how everyone at the University of Mississippi can work together to remove accessibility barriers in digital content that can prevent those with disabilities from accessing and understanding the information we share. We discussed easy ways our team will help you incorporate accessibility into your content; whether you are creating Word documents, PowerPoint presentations, PDFs, or website and social media content.  We also announced some exciting new tools and resources that will help increase digital accessibility for faculty, staff, students, and visitors at Ole Miss.
Although this was the 9th annual Global Accessibility Awareness Day, this was the first time that UM has participated in the event whose stated purpose is "to get everyone talking, thinking and learning about digital access/inclusion and people with different disabilities."
Services
Accessibility Solutions is available to partner with individuals and units on campus to increase the accessibility of digital content through:
Individual and Group Consultations
Accommodations
If you have questions or concerns specifically related to classroom accommodations, such as extended test time, distraction-reduced test environment, note taking, etc., please contact Student Disability Services (SDS) at (662) 915-7128 or sds@olemiss.edu.